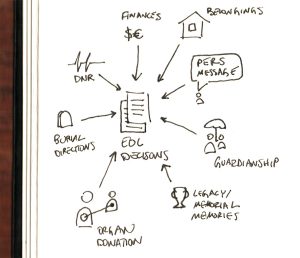 We all realize that life ends at some point, but many of us fail to properly plan for such events. In the complicated world we live in, there are many things to consider about one's own last days. Though these aspects are important to address, their personal nature and institutional complexity can make the decision process difficult to undertake. If decisions about an individual's last days and beyond are not addressed, it can create difficulty for loved ones and medical professionals. alike. With this in mind, there is a need to design ways to help people make these personal decisions in the ways they'd prefer.
Personal Values, Beliefs and Goals
Decisions about one's last days and beyond aren't really about the end-of-life—they are shaped by how a person prefers to live. These decisions are affected by a person's values, beliefs, and goals—the parts that shape how they see the world around them (their "worldview") and how they live their daily lives (their actions). These decisions can be medical, financial, legal, and relational, but they are almost always very emotional. These decisions can include:
Medical Considerations
How a person would like to be cared for if their body can not be healed
What types of medical procedures a person would like to be attempted to keep their body alive (some of these procedures can be risky)
A person's preferences for what they want to happen to their body after it dies, including organ donation
These decisions often take on the form of things like living wills, advanced directives, and do-not-resuscitate orders.
Financial Matters
How a person's remaining finances can go on to help loved ones or cherished organizations
If insurance or other services can help pay for unexpected medical care
These decisions are often enacted through life and health insurance, savings accounts, and other investments.
Legal Concerns
Assurance that one's property will be given to the people they prefer
Direction to name guardians for children or other dependents so they will be cared for
Naming a person who can make medical decisions in case a person's can not speak for themselves
These decisions are often recorded in documents like last-wills-and-testaments and durable power of attorney (also known as a health care proxy).
Memorial and Legacy Matters
Plans for memorials such as religious ceremonies or celebrations of life
Directions for how someone's body should be treated after it dies, including cremation or burial
Personal messages to loved ones or cherished organizations to provide instruction or encouragement
These can vary widely based on religious beliefs and family ties but often take the form of memorial ceremonies, funeral arrangements, cemetery plots, and instructions for the reading of poems or playing of songs at memorial events.
Difficult, Positive, Personal
Anticipating the variety of decisions related to end-of-life issues may seem overwhelming, especially considering the list above. Knowing where and how to start planning for the future is important but difficult. Some people may feel they have limited access to services or that the emotional burden of making these decisions is too much to handle so they put it off. But there are potential benefits to dealing with end-of-life issues. An individual can be confident their personal affairs are in order and families may have fewer stressful decisions to make after losing a loved one.
Researchers studying the effects of families discussing these values in hospital settings when a loved one is seriously ill revealed that the positive effects of these discussions. After their critically ill loved one's body died, researchers discovered that families were less likely to experience stress and anxiety as a result of having these challenging but important discussions. Thinking about and making decisions for end-of-life have significant upsides that last well beyond a loved one passes away. Still, only between 18% and 30% of Americans have made sufficient effort to properly plan for their future (Maller, 2014).
The Living Values project is being conducted to learn more about the barriers that prevent people from having these discussions earlier in their lives and how interventions can be designed to help these discussions to happen. These are personal matters unique to every person's needs, so a customized design is in order to meet those needs. People's lives matter as do those of loved ones around them. We hope to have a positive effect so those lives are honored while living and beyond.
References
"Values, beliefs and goals" related to advanced care planning was introduced by Angelo Volandes and is discussed in his book The Conversation: A Revolutionary Plan for End-of-Life Care.
Volandes, Angelo E. The Conversation: A Revolutionary Plan for End-of-life Care. New York: Bloomsbury Publishing, 2015.
Maller, Abigail. "Why Aren't Patients Using Advance Directives?" Accessed November 9, 2014. http://www.clinicalcorrelations.org/?p=6553.