Using Slack to keep team communication open across distances.
This project has already presented our team with a challenge: the desks of researchers at Miami University and The Ohio State University are separated by roughly 100 miles. As our team has begun to connect with medical professionals, organizations, and other collaborators, the distance between each of us has continued to expand. For this reason, we are trying out Slack as a virtual place where our discussions can exist (and where our desks may feel a little bit closer).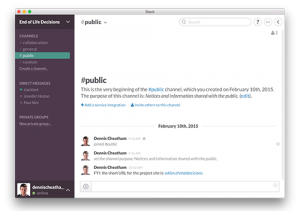 As this research progresses we hope that Slack will help us to capture the ideas, conversations, and opportunities collaborators encounter along the way. In the end, it's my hope that we can not only better understand and address End-of-Life Decisions in a way that is meaningful to our people group, but we will also have insights on how to do that with teams who don't share the same water-cooler daily.